I can't believe it's been a year. Landon's one!
He's so grown up.
He's now walking and talking, telling us the cow says "mmmmm's" and the car's go "vrrmmmm"
He knows birds, cats, dogs, cows, balls, books, piggies (toes)
He has learned to push his tables over to the couch and then crawls on them to climb on to the couch.
He loves to chase the dogs.
He likes to brush his teeth.
He knows to get the dog toys and throw them for the Mason and Maddie to fetch.
He loves pancakes and oatmeal and Grandma Rhodes pound cake.
He likes to get on his knees in the bath tub so he can drive his shuttle around the water.
He loves walking on the grass and picking flowers from the bushes.
He can clap and play peek-a-boo.
He loves to pretend to sneeze.
He whispers to himself while he plays.
He'll go with anyone who's going outside.
He says "ahh" after he drinks from his sippy cup.
He calls his paci a 'ma' (as in maci, I guess.)
He still loves to play with Mama's hair to go to sleep.
He drinks rice milk, apple juice, ice tea and loves to put his hands in mama's ice.
He can dance and jump - which are both essentially the same movement.
He loves Daddy's red and blue volleyball.
He's learned so many things and grown up so much. I can't believe how little he once was.
He went from this tiny baby who didn't even fit in his preemie clothes
To this big one year old who loves to learn and explore.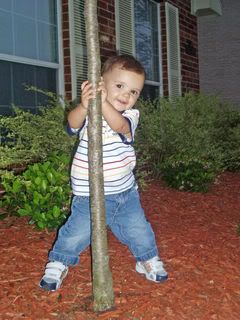 Happy Birthday Landon!!
PS (
And Happy Birthday to Baby L!!
)