We spent the weekend in Austin. My older sister, Jill, ran the 3M Half Marathon there on Sunday. We had a great time. Bryan had never been to Austin and it's been about 10 years since I've been. We went to the state capital, the Texas Historical Museum, the new outlet mall at Round Rock, etc, etc.
We got there around 9 on Friday. It's funny because looking at the map, we kept relating to Houston's maps, thinking it would take us forever to get places, then all of the sudden we'd pass where we needed to be. Austin is quite smaller than Houston. Landon was great on the ride over. His cough got really bad Friday night, and he was awake coughing most of the night. He did better Saturday. We got up early, had some breakfast and headed out to the capital.
They have these cute children playing out in the Capital Yard. Landon thought they were a little strange since they wouldn't talk back to him.
Maybe someday he can be a Texas senator or something...Or maybe it was just fun to play on the soft swinging rope: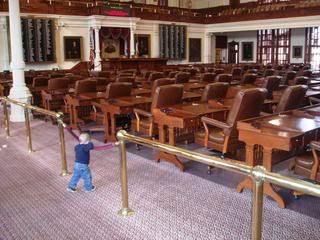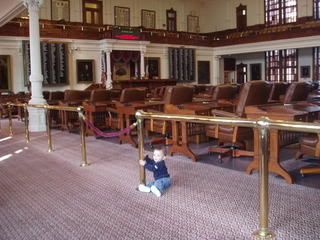 What a little hotty!? LOL...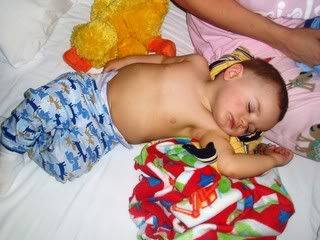 We met my sister and her two friends back at the hotel, then headed out for lunch. Then it was off for shopping. We found (again) great deals at The Children's Place outlet. And Bryan found some things at Gap.
A cold front came through Saturday night. I think the wind chill was 26 around 6 the next morning (when we got up for the race.) Landon fell asleep at the start, so he stayed in the car for mile 2 and mile 4 and was ready to get out at mile 6 (where we missed the girls.) But we found them at mile 8, handed off Kleenex and took off to mile 10.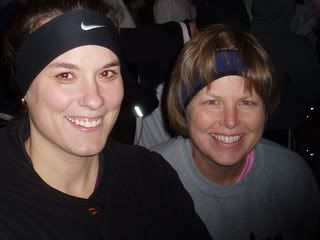 Landon helped me cheer on the runners. I would yell, "Good Job Runners" and he would yell, "Go!" It was cute and helped a lot of people smile in spite of the last hill and the previous 10 miles they'd just run.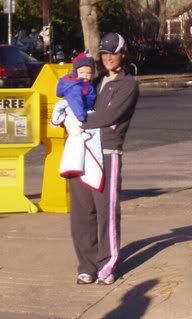 It never really warmed up. Jill and Mary Ann finished strong. Jill hurt her knee (previous injury.) They were ready for a shower and lots of ice. We went back to the hotel, packed up and said goodbye.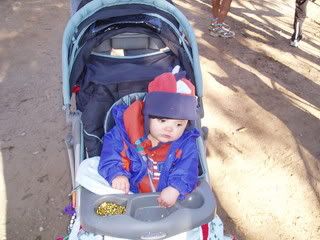 We found a BBQ place outside of Austin for lunch. Landon had beans, tators and pecan pie. And slept the whole way back to Houston. Awesome, huh. So did mom. It was a nice weekend, despite the cold. Got to visit Austin and support Jill in her run.