Landon and I still have this crud. I just want everyone to be well, already.
Happy valentine's day! We aren't planning on going anywhere tonight - too crazy. Bryan and I had lunch together, he gave me two cards (one from him and one from both my boys.) They gave me $$$ for Estee Lauder makeup. Yay! I need new stuff.
Landon's having a valentine's party at daycare today. Who knows what that means. A party for eleven >1 year olds. LOL.
Isn't he getting so tall! He's almost 30 inches.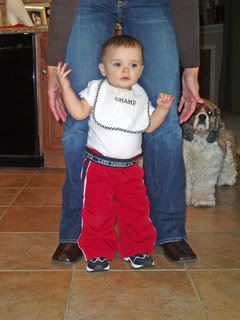 Landon loves pushing around his walking toy. I'll have to get pictures tonight. He takes it all over the house, but of course stops for the dog toy basket. He likes to carry the dogs' toys to them (in his mouth of course.)
Going to the dogs' toys
Got to the dogs' toys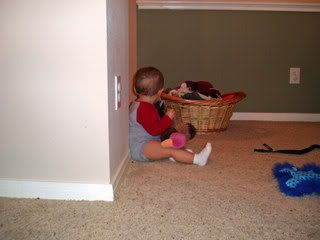 Eating the dogs' toys