Last night was fun! Landon was super active. Well, he almost nodded off right when we got there, but then all of the sudden he was so awake. He was excited when he first saw the huge field, but once he realized he didn't get to go play on it, I think he forgot it was there.
We had hot dogs, french fries and some cotton candy. Landon really wanted Danny's nachos - but see all the jalepenos??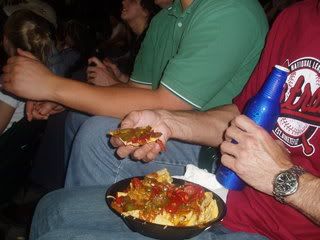 We took Landon up to walk the pavilion about four times, the rest of the time, he was pretty content either playing with my hair or flirting with a little girl behind us.
It was a great time, and I'm sure we'll be going back to another game soon.