Thursday
We left (a lot) later than expected on Thursday, so we didn't get into Houma until around 2:30ish. That bed felt wonderful. Landon and I slept in the back of the car most of the way there, so it wasn't too bad for us.
Friday
Woke up early and headed to IHOP. Who'd have thought they're be a waiting line at the Houma IHOP on a Friday morning…so we switched over to the Waffle House. Deewishus.
After some yummy breakfast, we went to Sam's, loaded up on food (but not quite enough – need to make a list next time.) Plus another Dora DVD for Landon. Then on to Target. Got pool toys, an awesome pool for the kiddos, fishing rods, and just some goodies for the adults. Like a gianormous bag of twizzlers and batman reeses.
Then we went to West Marine to get some rope for Jamie's boat. There we discovered kids cro.cs on sale 40% off! Yep, we loaded up. Got Landon two pairs, and Maddox and Seth some too. And of course, I got a pair also. (Which I happen to be wearing to work today cause the shoes I originally had on gave me blisters in like 2 minutes.)
We headed back to Mr. Danny and Miss Joann's house for some rest. Well, the adults wanted to rest, Landon wanted to play outside. So he and Mr. Danny went out and found ducks, a cat, lots of dragonflies, some moss, mulch, among other things.
We finally left for the camp around 4. Unpacked everything, got the boat in the water, turned the AC's down, started the ice machine. Made some baked ziti with meatballs and enjoyed a nice dinner out on the back deck. We took the boat out for a little bit, Lan relaxed quite a bit, but never fell asleep.
Landon fished with Dad for a while. He loved his fishing rod. But wanted to do it just like Dad.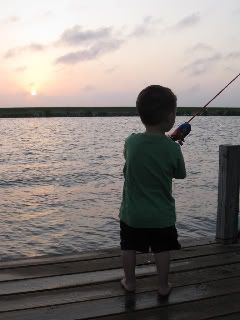 Max and crew finally got in around 3:30 that night. I only woke up to hear Miss Cole asking where she could crash.
Saturday
We woke up early the next morning. Had some sausage egg biscuits, and started blowing up the pool (they had an air compressor, but not the right attachments.) Mel and I did a pretty good job on it, though we were light headed for the rest of the morning. We put the pool out on the back deck and enjoyed a nice warm, but breezy morning.
Then we loaded up the coolers, got the boat ready and took off. The boys both feel asleep on the ride, but woke up to swim. We anchored off in lake Boudreaux and just spent some time floating around the boat. Landon loved it. He had a huge smile on his face the whole time he was in the water. And he was not happy when we decided to get back in the boat.
That night, the guys came upstairs laughing…we look outside and some Cajun had sunk his boat in one of the Blanchard's slips. LOL. Moron. It was great. The guy was wearing this tiny little aqua life jacket that barely fit over his man boobs, since it had to be tied above his big belly. He and his friend tried for a long, long, long time to get the boat out. They finally got it out with some help about 4 hours later. Definitely some drinking involved there. (the picture is dark, but hopefully, you can still laugh about it.)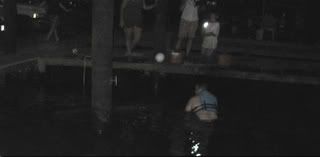 Sunday
Mr Danny (Sr.) and Miss Joann come up with their boat to take us to the island. It was beautiful out. After a 45 minute ride out to the island (the boys again fell asleep, missing the dolphins jumping beside out boats) we realize Danny (jr.) left the bait at the camp. We had anchored off on the back side of the island, but the water was way choppy. Mel and I both start immediately getting sick. So we decided to go look for some calmer water. We finally get around the island and anchor off. Its gorgeous. We say 100s of hermit crabs all along the beach…all different types and sizes of shells. I've never seen that many in one place. (Nicole had her camera so the pictures will come later.)
After we used the net to catch some minnows, Bry, Max and the Blanchards took one of the boats over to the pier to fish. Danny stayed with the girls and kids and we just floated around the boat, in about knee deep water. So very relaxing.
Didn't catch anything without good bait, so we loaded up and headed back to camp. Miss Joann was going to try out her Pina Colada mix, but it was too frozen and ended up blowing the fuse in the blender! Luckily, we had two engineers with us, so they rewired the blender and it was back in business. We grilled some more hamburgers and sat out while the boys (who still somehow were full of energy) ran around the deck.
We all went to bed early, or at least the girls did. The guys stayed up to watch the basketball game (but I'm pretty sure they were all snoring during the commercials.)
Monday
We got up early (again) and started cleaning up. Deflated the pool, dishes, laundry, mopping, etc. I believe it's the earliest we've ever left the camp. Made it back to Houma for a delicious lunch at Big Al's. We sent Max and crew on their way and ended up going back to West Marine for another pair of crocs for Landon, Miss Nicole and Maddox.
We all got quite a bit of sun, some more than others. It was a great and relaxing weekend. We need to go back again. The boys loved fishing with their superman fishing rods. And loved throwing rocks in the water (and at the neighbors camp.)