Friday
Bry left work early, picked up the uhaul trailer and loaded it up with some furniture we took up to my sisters. Landon and I messed around in the house and yard, until we were ready to go. We stopped off at Denny's and had dinner and finally got on the road around 8:30pm. Ouch. Landon fell asleep just on the other side of downtown and stayed asleep the whole entire drive. Not kidding. I stayed up til about Brenham and then got in the back with Landon and we slept well. Poor Bryan. He stopped at Gatesville for a potty break at Walmart and a tornado had just come through there...no power at all...so he hopped back in the car, and found a small dirt road. I wasn't to sure we were going to be able to get turned around once Bry had completed his 'break.' LOL. But we did and were on our way again. Bry stopped and slept for awhile after Abilene. We made it to Muleshoe around 8:30...a little later than we thought, but just in time to have breakfast with my family.
Saturday
Landon and Kallie played, while we got ready for breakfast. Landon walked into the living room, he had painted one side of his cheek with green marker, the other with orange. We finally all went down to eat at the Dinner Bell. Yummo - biscuits and gravy. Then we got back in and went down to a small store there so Bry could try on boots. They had some nice ones, we finally made him put jeans on, so he didn't look so crazy in his shorts and boots. We didn't end up getting a pair, think we'll wait until the big 4th of July sale at Joe's.
Landon and Kallie played some more at the house, before we took off for Portales. On the way out of town, we stopped at Kip's sisters and let Landon and Kallie ride the Kallie's little pony. And I mean, LITTLE. Almost like an over-sized dog. Landon loved it. In fact we had to take him off, kicking and screaming, "my horsey, my horsey, my kallie, my kallie" He cried the whole way to Portales, and finally fell asleep as we got to the city limits.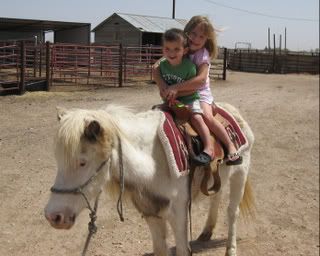 We stopped by the furniture store to grab a dolly to get the furniture into Jana's apartment. (Wish I would have taken pics, her apt is way cute.) We left Landon sleeping at Jana's and went back to load up at the store.
Let me tell you about the store. My aunt and uncle hired a company to come in and close them out. These people are creepy. Like greasy car sales men. Eww. They brought in cheap crappy furniture, gnasty leather couches, yucko stuff. Its weird to go in the store and see all that junk in there. Sad, too. Poor Sharon and Bill. Its just not the same there anymore. Bryan and I walked all over to see if there was anything left we might want. Two chairs, I really wish I would have taken, but didn't. Oh well.
Sharon and I both cried before I left. Its just so difficult. We've had the store for almost 50 years. I grew up in that store, spent summers there, its where you always go. It was so hard to leave. Seeing the door frame with every one's height, the tool drawers and cabinets that my Grandad made. The chair my grandmother sat in up until the very last day. The toys that have been there for years. The stairs, each a different color carpet. The hot Tell City room. So many memories there. For all the family. Every baby has crawled on that floor, played in that store, ran up the stairs.
Finally left the store, Bry had to drag me out of there. We went over to Mom's and cleaned up, then headed back to Muleshoe for Trev's baseball game. The wind was blowing up to 45 mph...it was pure dirt in the air. Like a not so fun microderm-abrasion, free from nature. I ended up watching the game from the car, with the kids in the back watching a movie. Went back to Jills to get some rest. (Up to this point, Bry still hadn't slept anymore.)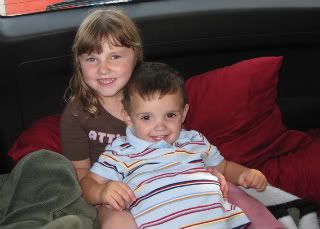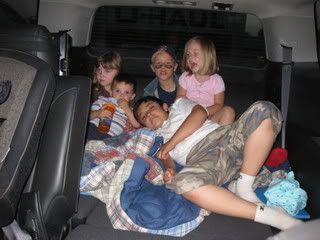 Slept great. Didn't get up until 7:45. Got on the road after some McDonalds and spent the rest of the day driving home. Bry took some nice shots here. Windmills out by Abilene, a pic of me sleeping, and his new find - a 100 ounce mug.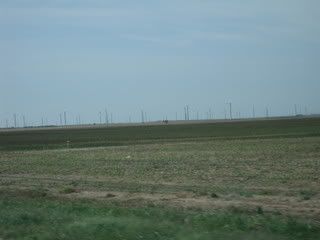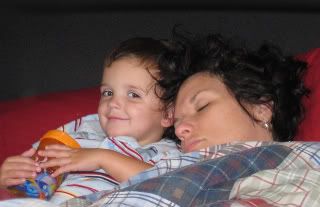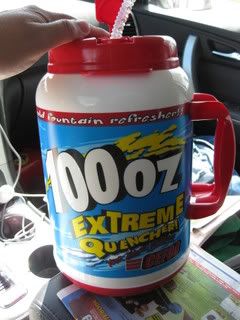 We got home and Mr. D and Ma Cole came over to help unload. The furniture looks great. I'm exhausted and sick to my stomach from eating crap all weekend. Although it was all deewishus.